Epoxy Floor Coating & Finishes
From start to finish, South Island Surfaces has all the tools, equipment, and expert personnel to take care of all your commercial epoxy floor coating projects. From garages to industrial and commercial installations, our ability to create eye-popping floor finishes is extensive. Browse our endless range of colours and textures, or give us a ring for a free consultation and quote.
We install commercial and industrial grade epoxy floors for businesses, automotive centres, institutions, schools, garages, manufacturing, and more!
South Island Surfaces installs epoxy floors and floor coatings for those needing a strong surface that can withstand the extreme requirements of industrial floors and protect the buildings surfaces, machinery and employees from chemicals and moisture, UV light, accidents to name a few.
Epoxy flooring is comprised of resin and hardener. Once the two are combined, a chemical reaction occurs and forms a rigid surface that is very strong and wear resistant. These types of coatings bond to almost any surface you can think of, making them an excellent overall flooring choice
Epoxy floor coatings from South Island Surfaces is:
Easy to keep clean
Because epoxy floors have no seams, they are easily wiped clean, meaning dust and dirt can't accumulate. Epoxy floors are also able to withstand steam cleaning.
Durable
Epoxy flooring is moisture resistant, meaning they will protect your surfaces for many years to come.
Aesthetically pleasing
Epoxy floor coatings are high gloss and available in different textures, colours, and decorative add-ons, making them suitable for any work environment.
Improved safety
Concrete floors with epoxy coatings are impact, fire, and heat-resistant, and the high gloss floor coatings can improve a work area's brightness by up to 300%.
Green-Friendly
Epoxy concrete flooring is a non-toxic surface that is a perfect choice for companies who are choosing to be environmentally friendly.
Metallic Epoxy
Metallic epoxy floors have an exotic glossy look with a depth of colour and visual effects. You can even go for a three-dimensional effect to stand out.
Quartz Epoxy
Quartz epoxy floor systems bring together high-performance polymer resin with blended colour quartz granules, making it a floor that is decorative, slip-resistant, sanitary and extremely durable and long-lasting concrete surface.
Decorative Epoxy
Decorative epoxy is typically used for its aesthetic appearance, providing an easy-to-clean surface that is not only good-looking but slip-resistant and durable.
Epoxy Flake
Coloured flakes or chips are layered to create multi-hued vibrant epoxy surfaces which are durable and long-lasting.
Epoxy Mortar
The strongest of all seamless flooring, created with a 100% solid epoxy that is mixed with sand or quartz sand before being laid by hand. This gives it high impact resistance and above-average durability and is great for repairing old floors.
Self-Levelling
Self-levelling epoxy can be applied over new concrete or old, cracked and damaged concrete and creates a durable, seamless, and low maintenance floor surface. This product can be found in a variety of colours to create decorative designs or designated work zones.
Quartz Epoxy
Quartz epoxy floor systems bring together high-performance polymer resin with blended colour quartz granules, making it a floor that is decorative, slip-resistant, sanitary and extremely durable and long-lasting concrete surface.
Anti-Static Epoxy
Use an anti-static epoxy when sensitive electronic equipment needs to be protected from electrostatic charges in static sensitive work environments. Anti-static flooring is also helpful in preventing explosions and fire when working with flammable materials.
Available Epoxy Floor Finishes
Quartz Epoxy System & Urethane Floor Coating
Safe, easy-to-clean floor systems for commercial flooring applications with design flexibility. Available in both epoxy flooring and urethane flooring systems in a myriad of patterns and textures for light manufacturing and commercial environments. These popular finishes are ultra slip resistant and super durable.
Quartz Epoxy System Overview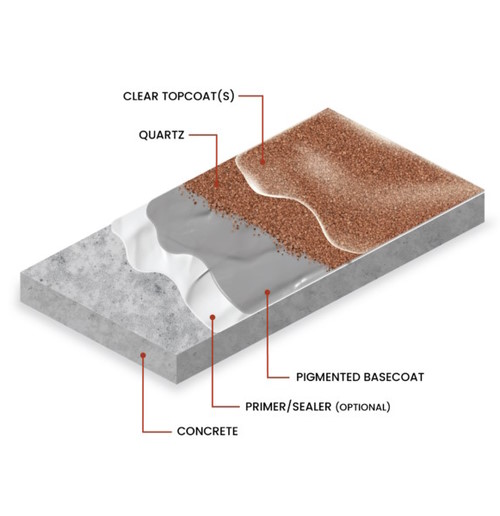 Ultra Durable, Seamless Flooring System
The Quartz Epoxy Flooring System like all of our floor coatings create a seamless, hygienic surface that are durable and easy to maintain. Due to their completely sealed surface, liquids are easy to clean and it's non-porous properties protects the floor against mold and bacteria growth.
Creative Colours & Design Options
The creative options for your new flooring system are extensive. How you compliment the design of your space is only limited to your imagination as we have 40 colour options and two sizes of QUARTZ to choose from.
Quartz Epoxy Catalogue & Resources
Flake Epoxy & Urethane Floor Coatings
Flake epoxy and urethane floor protection for heavy-duty environments. Chemical, abrasion and impact resistant. Can be configured to meet the needs of static control and temperature-dependent environments.
Watch a recently prepped floor get an exotic metallic resurfacing from prep to finish.