Why Breweries
&

Cideries Require Special Flooring
Are you looking for new flooring for your brewery or cidery here in BC? Regardless of what you're brewing, the quality of your floors should be prioritized in order to avoid safety hazards, environmental disasters, and regulation violations. But you can't just use any old warehouse flooring. Breweries are much different than typical warehouse or factory conditions, which means specific flooring is necessary.
In this article, we'll dive into what makes breweries and cideries so different than typical commercial environments, which type of flooring is ideal, and more:
Why is Brewery Flooring Different?
Breweries are complex manufacturing environments that do their own processing, production and bottling. There are a lot of moving parts and substances. They require special machines to crack the grain, other machines that can bottle beers on a big scale, perhaps others just for canning, and a massive stainless-steel brewing kettle. Then there's another tank called a fermenter, where the ingredients combine to actually make the beer. From there the beer is transferred to an aging tank, and from there to a finishing tank, where the beer is finally bottle into a delicious, drinkable product. On top of all that equipment used for making the beer, breweries require heavy duty ventilation and drainage to sort out the extra gas and liquid.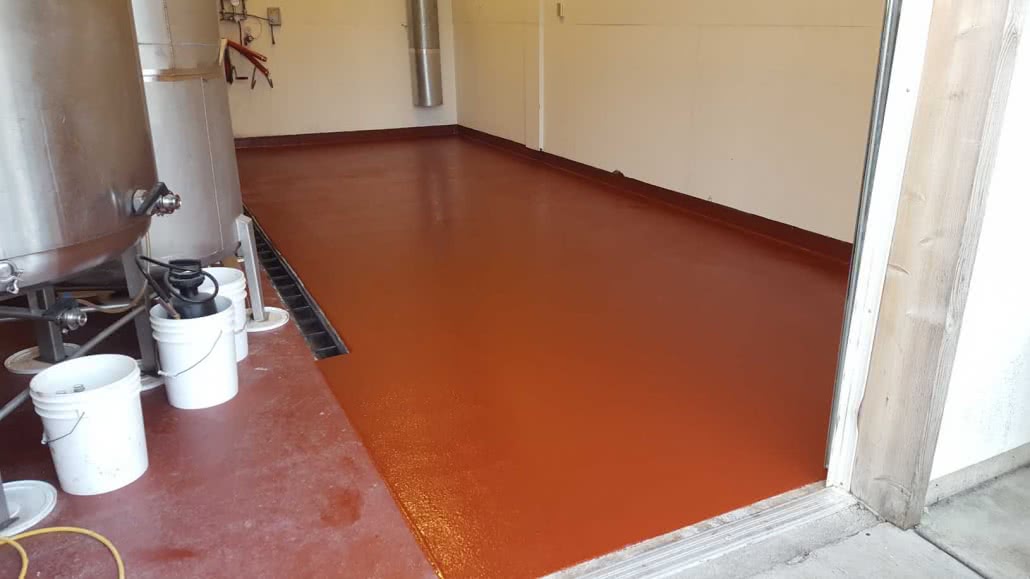 The process of brewing beer is complicated, and requires various conditions throughout the process. High heat and low heat, wet and dry, and different pressures. There are also chemicals being used to clean tanks. The average warehouse flooring wouldn't be able to withstand the demands of a modern brewery.
At the end of the day, breweries are making stuff that people drink. So any type of mould or bacteria is public enemy one inside a brewery – similar to a restaurant. All that liquid adjusted to different temperatures will have its toll. The tanks can be cleaned, but bacteria can grow in an inadequate floor regardless of how often it's cleaned.
There's also an overlooked aspect of brewing beer, which encourages breweries to opt for more specialized flooring. Most craft beer drinkers are interested in preserving the environment, and are vehemently against pollution. This passion for the environment is magnified when considering businesses, and choosing which organizations to support or avoid. For that reason, at the very least, craft breweries are concerned about the waste they produce during the brewing process, and ways they can preserve the environment. The flooring of the brewery can make a big difference.
What Type of Flooring Works Best in a Brewery?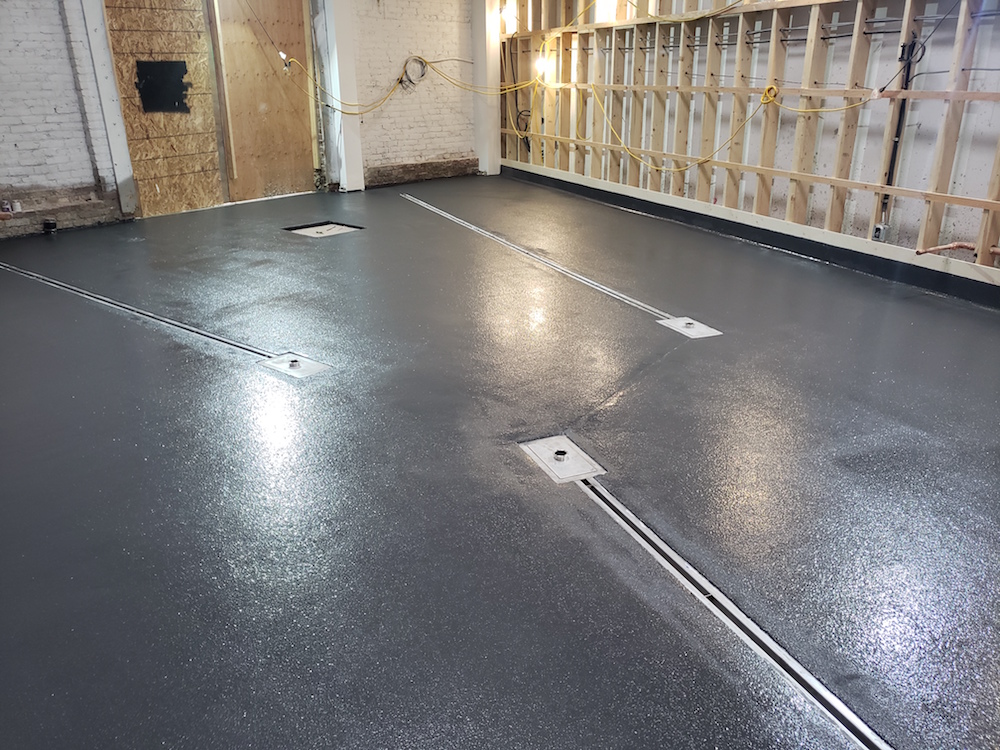 Some areas of the brewery will be almost constantly wet, so a non-slip, skid-resistant texture in these spots will be absolutely necessary. Breweries and cideries employ people to man the production, bottling and cleaning, so there's a lot of moving parts. With safety as a top priority, breweries need to ensure nobody will slip and fall because of inadequate flooring.
Because breweries are producing stuff that people consume, bacteria and mould growth is another big threat. That's why brewery floors should be non-porous and free of any gaps or cracks. They should also contain antimicrobial properties in order to prevent the growth of harmful bacteria.
To withstand the extremely hot water and corrosive chemicals used for cleaning, brewery floors require urethane cements to protect the concrete underneath. Otherwise, the floor will erode – especially around the drain areas. When compared with epoxy flooring, urethane cement is stronger, thicker, and can withstand the thermal shock the floor receives when hot cleaning water is dumped from the tanks.
Our Brewery Floors on the Island
South Island Surfaces is proud to have worked with several breweries over the years, to ensure their flooring is the best it can be. Here are some of breweries and cideries on the Island we've had the pleasure of working with:
If you're looking for new flooring for your brewery or cidery here, don't hesitate to reach out. We'd be happy to have a conversation and provide a quote. You can also reach us at 250-661-3034.